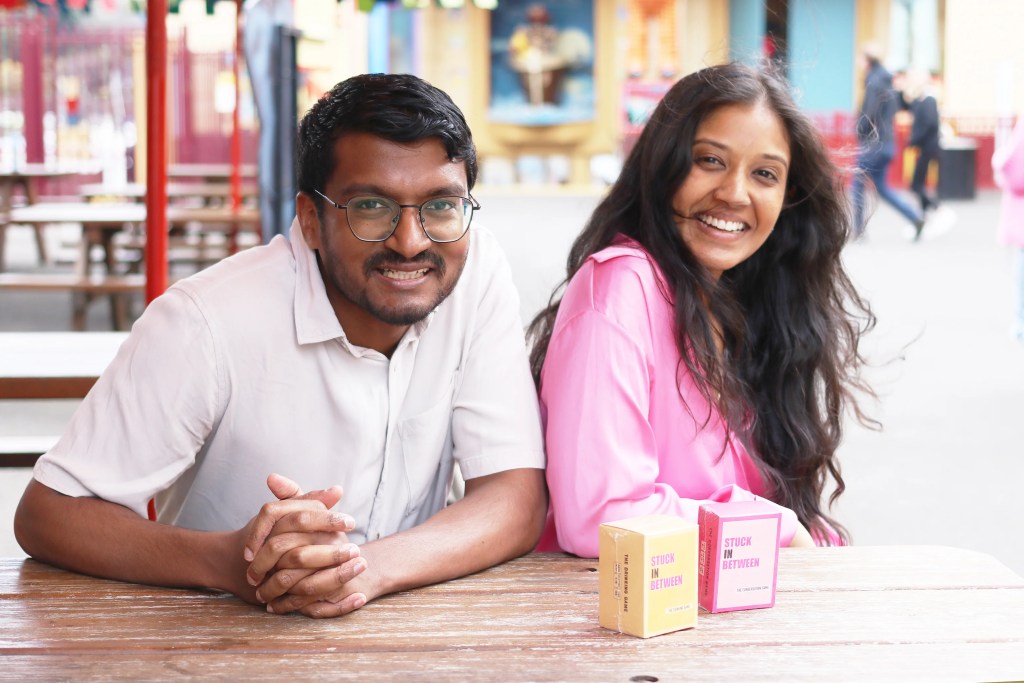 Baking banana bread and dancing on TikTok were undeniably some of the most popular newfound hobbies that arose as a result of the pandemic. And let's not forget, the trend of creating your own podcast – one that Sydney-based Romitha 'Romi' Seher and Senthan Sanchayan quickly jumped onto during the initial 2020 COVID-19 lockdown.
While not everyone's pandemic podcast has necessarily outlasted the lockdowns or attracted a solid following, Romi and Senthan's podcast, 'Stuck In Between', has managed to do both those things, and a lot more.
Now in its third season, the podcast delves deep into what it feels like to be 'stuck in between' two cultures as a South Asian person in Australia. It's an experience that the client consulting manager (Romi) and strategy analyst (Senthan) personally relate to. Senthan, who identifies as Eelam Tamil, was born in the US before migrating to Australia when he was three. Romi was also born abroad, in Sri Lanka, and migrated to Sydney when she was six years old.
By reflecting on their own journeys and interviewing other people from the diaspora, Romi and Senthan have created a podcast that inspires, educates and provides a platform for representation that South Asians in Australia have been longing for.
"The purpose of 'Stuck in Between' is to create a safe space where we can collectively explore the sometimes weird, sometimes wonderful territory, living between two cultures," the duo told Draw Your Box.
"Our aim is to build a platform for us to share and learn from the experiences, perspectives and achievements of our community, and put both of our Eastern and Western cultures under a magnifying glass to celebrate their richness but also challenge how each world can learn from one another. In doing so, we hope to help others make better sense of how to exist in this reality, whilst understanding how to navigate it ourselves."
In this Q&A with Romi and Senthan, we learn more about their vision behind 'Stuck In Between', what's involved in creating a successful podcast, and what we can expect from Season 3.
What are three words you would use to describe 'Stuck In Between'?
Romi: Representation, inspiring and educational.
Senthan: Diverse, informative and empowering.
Who has been your favourite guest on the podcast so far?
Senthan: This is such a cop out answer, but there isn't one! It's a really difficult question because every guest leaves us inspired and there's something uniquely special we take away from each episode – whether that be a deeper understanding, an insightful perspective or a new friend.
But if I had to pick, I would say that my favourite episodes have been those with the storytellers from our community. Conversations with the likes of author Shankari Chandran, playwright S. Shakthidharan and musician L-FRESH the Lion have been the ones that have moved me the most. I've learned more about their creative processes and the important work they do to preserve and share really important and underrepresented stories.
Romi: I definitely agree with Senthan, it's so hard to choose just one! What I love is the variety of topics and guests we've been so fortunate to have on our podcast, because it's allowed us, along with our listeners, to take away something different each episode. It's so eye opening to connect with people who have such a wealth of knowledge or a really unique perspective or experience, and learn more about how they've paved the way for many others in our community.
My personal favourites have been episodes with subject matter experts on topics which I didn't know a lot about (e.g. Devdutt Patanaik on mythology) or guests like Rowi Singh, who I've always admired from afar.
If there was any guest you could have on the show, who would it be and why?
Both: We have a long list of guests we would love to have on the podcast. Mindy Kaling is probably one of the first people that comes to mind. It goes without saying that she's an absolute powerhouse who has made waves in the media landscape as a writer, actor, producer and director. We love how she's represented South Asian stories through hits like 'Never Have I Ever', without playing into stereotypes or pigeonholing who South Asians can or can't be. Devi's character is a normal teenager who's navigating two cultures. It would be so cool to chat to her about how she's paved this path for herself and many others following her footsteps, her mission to platform people of colour, as well as her creative process.
On top of that, some local talent who would be amazing to bring on the show would be the likes of Usman Khawaja to chat about his cricketing journey, representing Australia as a child of immigrants and the significance of the sport in the subcontinent.
One of the beautiful things about diaspora communities is that we have such a vast number of people doing an array of incredible things, big and small, so there is an endless list of guests we'd love to collaborate with and platform – whether they are well-known in the public eye or not.
Podcasts are hugely popular these days, and a lot of young people want to create their own. How long does it take to produce an episode?
Both: There's a lot that goes into running a podcast which we were naive to prior to starting one ourselves. We'd estimate that per episode, we spend an hour or two preparing for a recording (this could include background research, brainstorming questions, structuring a runsheet etc.), an hour-and-a-half on air, anywhere up to 15 hours editing (which is the worst part of the process!) and another two hours to produce social media content.
Tell us more about the 'Stuck In Between' card games.
Both: The idea to create our own card games came about after playing a game called 'Cooked Aussies', centred around growing up in Australia in the early 2000s. When talking about it, we thought that it would be cool to have a South Asian version of the game where we could celebrate the quirks of our hybrid existence, but also open some interesting dialogue.
So, we decided to develop two games, the 'Stuck In Between Drinking Game' which is a South Asian-themed party game for a fun night in, and the 'Stuck In Between Conversations Game', designed to spark deeper and more reflective conversations with your loved ones.
It's been really cool to hear about how our games have helped create a unique and fun experience for our listeners, as well as lead to the conversations we don't often have with our families. It's honestly so wild to think that people are playing something tangible that we created and put out into the world.
Where would you like to take 'Stuck In Between' in 2023?
Both: We're so excited to be back for Season 3 of 'Stuck In Between' in 2023. Of course, we want to continue sharing insightful and important conversations with the groundbreakers from our community, and this season, we're planning on elevating the production of our recordings and shooting more companion video content from our episodes.
We'd also love to collaborate more with incredibly talented creators in this space on different projects, and we have plenty of other ideas we're cooking up to explore different types of content including new video formats, spin-off podcasts, extensions to our card games and maybe even a merch line.
We're also looking to expand our team and to work closely with other establishing media brands. There's so much to look forward to, we can't wait to see where this rollercoaster takes us and to bring our audience on the ride... so stay tuned!
What's your advice to young South Asian Australians who are feeling 'stuck in between' the two cultures?
Both: Our advice would be to embrace it. There are so many challenges that come with feeling 'stuck in between'. You're constantly questioning who you are and where you fit in the world around you. You're forced to navigate conflicting value sets and expectations, and often catch yourself code-switching whilst finding your identity.
We both spent a long time looking at this experience as a burden. It wasn't until we embraced our hybrid reality that we realised the privilege and power that comes from having two rich cultures to pick and choose from.
So, our advice would be to selectively pull from both worlds and forge a truth that makes most sense to you, rather than fighting or resisting the existence. Doing that, along with a deeper exploration of our roots, has been the most empowering step in the process. It also helps to bring your family with you along the journey – you might not understand one another completely at first, but the more open and honest you are, the more likely that you'll empathise with each other and find a common ground. Being 'stuck in between' is definitely not an easy place to be, but there's certainly a lot to be thankful for.