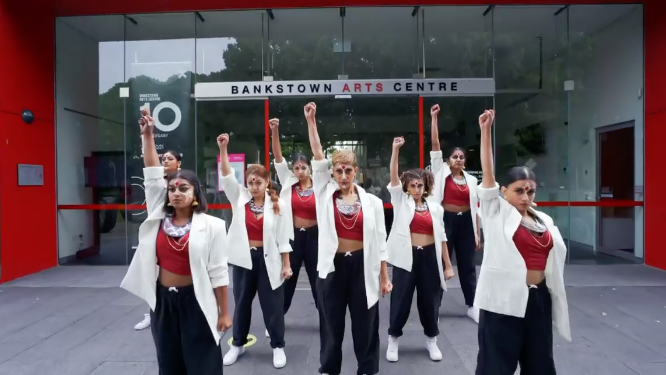 South Asian Australian dance group, BINDI BOSSES, has released a new video for NAIDOC Week which not only features some incredible moves, but shows the importance of other people of colour supporting and working with First Nations peoples of Australia.
"As South Asian migrants, we are forever indebted to First Nations peoples and elders past, present and emerging for their ongoing custodianship and resistance," reads a message at the start of the video before the dancing begins.
Filmed at Bankstown Arts Centre in Sydney's south west, the clip features six of the Bindi Bosses using emotive expressions and striking movements with the backing of Baker Boy's track, Meditjin. The dancers also wear statement necklaces designed by Cleonie Quayle (mother of First Nations rapper Barkaa), a collaboration that was born from Bindi Bosses director Shyamla Eswaran's vision to work with people from the Aboriginal community in the project.
Cleonie, a Barkindji, Malyangapa woman who has been making jewellery over the past decade, designed and created the bold accessories and included BINDI BOSSES member Shankari's artwork that featured black, red and white.
"The vision behind the BINDI BOSSES necklaces was to represent and showcase the amazing artwork that is culturally specific to them," Cleonie told Draw Your Box. "Being an Aboriginal jewellery designer, l believe jewellery should represent your culture and showcase it to the world. I also worked alongside Shankari who designed the artwork that is on the necklaces. Shankari is an amazing artist and it was a privilege to work with her and Shyamla."
Cleonie said "it's very important" for other cultures to work together with Indigenous people. In the case of her collaboration with these South Asian artists, she said it was significant as "we both share similarities with our experiences and culture living in Australia".
"Cultural exchange and connection is the perfect way to learn, share, showcase and show appreciation of each other as people, as well as acknowledging our diversity and difference," she said.
Check out the video below and give it a share.