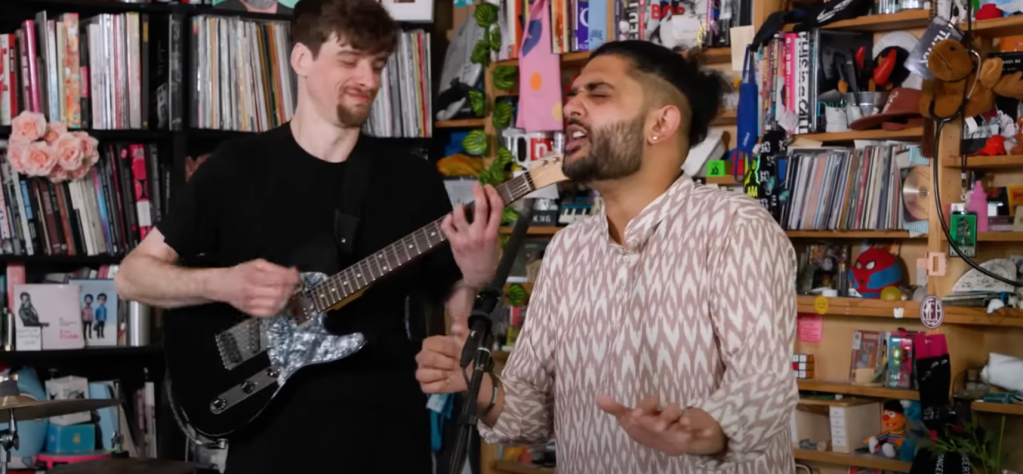 There's always been a link between South Indian music and Western traditional music. Just listen to any traditional Celtic singers and Hindustani singers and you'll hear similarities, or the sound of the Indian Shehnai and the Bagpipes.
However when listening to the latest Tiny Desk Concerts, I was still surprised to hear a show start with Vakratunda Mahakaya before transitioning seamlessly into an English-language soul song. But this is Sid Sriram, and as he says in the concert, having been born in South India before growing up in the Bay Area in the U.S, his music is a tapestry of Carnatic, Jazz, and Soul music, and this is on full display throughout.
These are songs from his upcoming album 'Sidharth' that you could easily imagine you'll be hearing on the radio on any mainstream channel, but the South Asian influence is obvious in his Gamakas or Alapana over electric guitars.
He's not the first South Asian to showcase the music of the subcontinent in western shows. Who could forget Abi Sampa on 'The Voice'? But in effortlessly blending all the genres of Carnatic music, jazz, soul, and R&B, it's shown that South Asian music can fit into anything and fusion of the two can definitely be mainstream.
If you don't know what NPR's Tiny Desk Concert series is, it's the perfect vehicle to showcase how diverse music is, yet at the same time how it transcends those differences to reach for the beautiful, sublime, storytelling that is in every artist's song. Over the 15 years it's been in existence, it has hosted megastars ranging from Coldplay, Bono and The Edge, Ed Sheeran, to Stromae, Madam Ghandi, and Arooj Aftab.
Many first and second generation immigrants today have the same upbringing as Sid Sriram, with the beauty of our traditional culture being taught to us, while at the same time we are experiencing, exploring, and integrating with the culture of our new homes. It's often hard to believe that the two cultures can exist as one, and sometimes we're left feeling disconnected from both, without a sense of belonging. The music found here in this Tiny Desk Concert though, shows that both can co-exist in a spectacular fusion, and when we look to similarities instead of differences, each can help to elevate the magic found in East and West.
Sid Sriram's performance just took place during Asian American and Pacific Islander (AAPI) Heritage Month in May – a celebration of Asians and Pacific Islanders in the United States and the contributions they've made to the country. Have a watch of his Tiny Desk Concert here and enjoy the magic.