Today we chat to Subha Khan, a Pakistani Australian woman who founded Pyaari Pieces.
In recent years, we've seen the market for South Asian clothing rapidly change. Accessibility was a major issue during the pandemic, where many of us weren't able to travel overseas to buy the latest trending outfits at affordable price points. It's an issue I personally faced when planning my own wedding in 2021.
We've also seen a shift in many consumers' appetites. With the rise of daily content creation on TikTok showcasing diverse fashion from various countries, many South Asians in Australia are unsurprisingly eyeing more luxury designer labels than ever before.
With a personal collection of designer outfits hanging in her wardrobe, Subha entered the clothing rental scene in Australia with Pyaari Pieces. It has quickly become an absolute game changer to the landscape, allowing women to hire saris, lehengas, churidars and more from designers such as Anita Dongre, Sabyasachi and House of Masaba for a fraction of the regular retail price.
Here Subha speaks about the vision behind Pyaari Pieces, reducing your fashion footprint, what advice she has for South Asian women hoping to start a fashion business, and more.
When did you start Pyaari Pieces and what made you decide to start it?
While the idea had been brewing for a long time, I officially launched Pyaari Pieces in January 2023.
I call myself an Australian, but of course, I have a deep love and ties to my South Asian heritage and in particular, our fashion. I started this business because I wanted to be able to reduce my fashion footprint by renting South Asian Fashion – but there was no platform for me to go to.
Access is a huge deterrent and barrier when ordering South Asian clothes, especially from Australia. During my wedding in 2022, friends, family and myself included, scrambled to organise outfits and clothes for the events as travel was just opening up again. This is when the idea came to me, to celebrate South Asian fashion over and over, by renting outfits.
Many of us only wear an outfit once, and it's hard to justify the price tag and storage space for our elaborate outfits. With Pyaari, our clients can rent an outfit for an event, and achieve style flexibility all while reducing their fashion footprint without breaking the bank.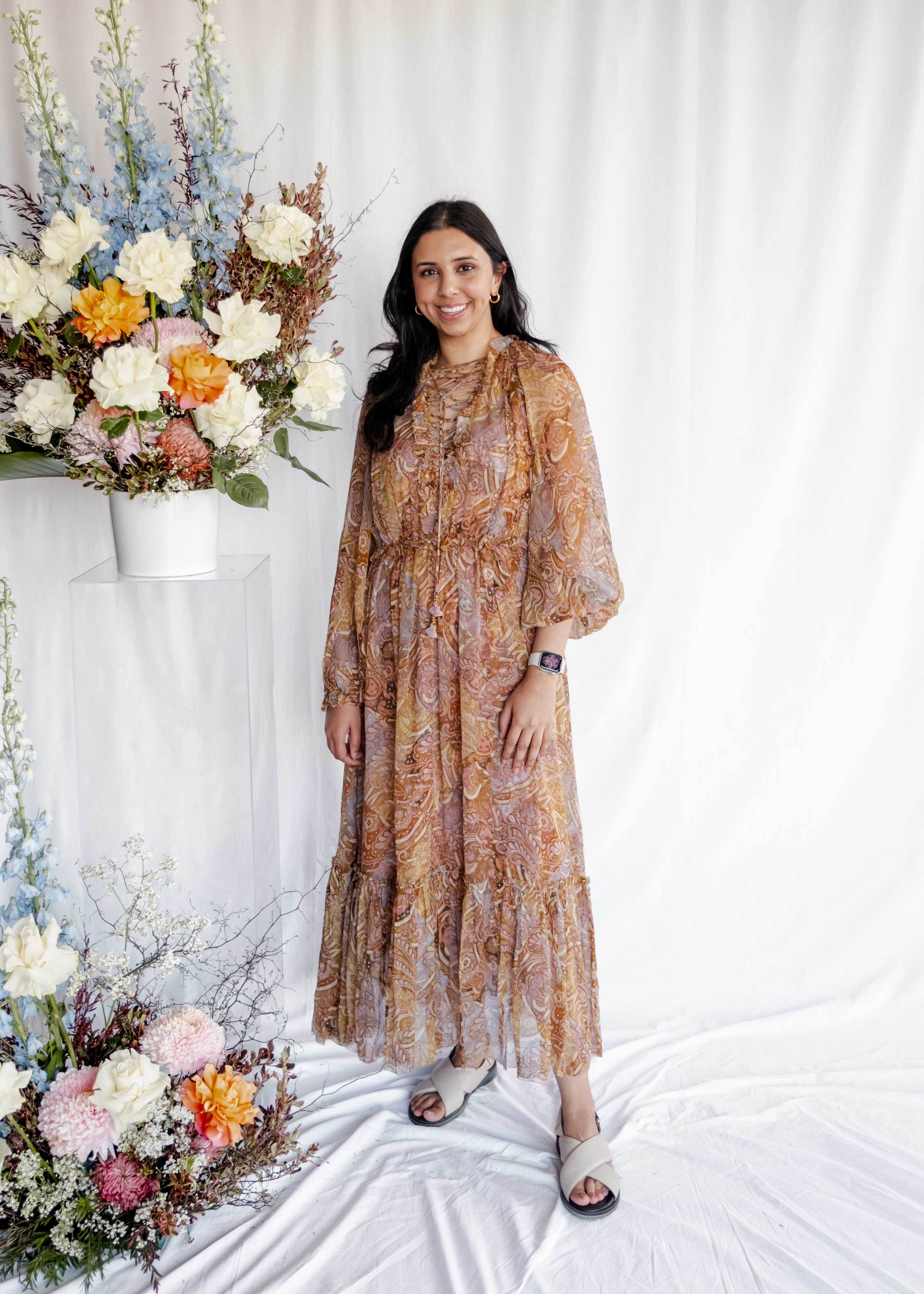 How did you come up with the name Pyaari?
pyaari پیاری प्यारी "Pyaari", meaning 'loved', conveys the essence of our brand, loved pieces by you and me. At Pyaari, we love South Asian luxury high-end fashion and are committed to making it affordable and accessible for all, while minimising our environmental footprint.
How would you describe the product range at Pyaari Pieces?

We currently only stock luxury brands such as Sabyasachi, Anita Dongre, House of Masaba, Satya Paul, Ritu Kumar, and the likes, but my long-term vision for Pyaari is to become the preferred platform for new and upcoming South Asian designers with whom we will aim to collaborate with in creating unique designer items that will be exclusively shared only on the Pyaari Platform.
This way we truly celebrate South Asian craftsmanship and design ethos. For the first time in Australia, our community can wear luxury South Asian clothing at a fraction of the retail price.
What's been the most popular piece from Pyaari Pieces so far?
We prefer to stock designs that are renowned for their opulence, attention to detail, and timeless elegance. Sabyasachi is the epitome of those attributes. The brand has truly become a symbol of luxury and sophistication in the Indian fashion world and we have over 12 designs available for special occasions such as weddings and graduations.

Additionally, silk sarees from Anita Dongre have been widely popular within the South Asian community here in Sydney, as they are centred around sustainability, inclusivity, and versatility.
We love seeing that so many of the same outfits stocked on Pyaari Pieces have also been worn by celebrities. Does the business aim to help make replicating celebrity looks easier and more accessible?

At Pyaari, our focus is on democratising luxe South Asian designer fashion, making it accessible to all. While we draw inspiration from celebrities and iconic events like the IIFA Awards or the Oscars, our goal is not just imitation but empowerment. We believe everyone deserves to feel like a star without compromising affordability.
With Pyaari, you can effortlessly embrace celebrity-like glamour through our curated, affordable collections. It's not just about following trends; it's about expressing your unique style and feeling extraordinary.
Speaking of celebrities, if you could dress a famous person in a Pyaari Pieces outfit, who would it be and why?

I'd love to style Maitreyi Ramakrishnan, renowned for her role in Never Have I Ever. She embodies a vibrant, quirky personality and takes pride in her South Asian heritage. Her portrayal on the show has effectively normalised various unique aspects of South Asian culture, making her a role model for the younger generation.
Dressing her in Pyaari Pieces could serve as a strong motivator for the younger audience to opt for renting South Asian clothing rather than making purchases.
The South Asian attire rental space in Australia is growing. How has the landscape evolved in recent months?

Although the concept remains relatively novel, it is steadily gaining acceptance as people become more familiar with the model. Nevertheless, the majority of rental spaces distinguish themselves through their levels of service, engagement, and support for their core clientele. Pyaari aims to be a leader in this space.

What's your advice to other young South Asian women who want to start a business in the fashion space?
For young South Asian women aspiring to enter the fashion business, I say embrace the challenges, trust your capabilities, and remember that self-doubt is temporary.
Seize the abundant opportunities, and if possible, involve your family – creating a shared journey can be profoundly rewarding for everyone involved. I can say it really has been for me.
How can customers make the experience of wearing South Asian fashion enjoyable and a form of self-expression?

I believe South Asian fashion is not just about clothing; it's a canvas for self-expression and celebration of individuality. It's storytelling and promoting the uniqueness of our rich heritage and culture. Enjoy the process of curating a wardrobe that speaks to your unique style and cultural identity. Here are my non-negotiables:

Embrace diversity and explore a variety of styles, colours, and fabrics representative of South Asian culture. Don't be afraid to experiment and find what resonates with your personal taste.

Accessorise! Accessories can elevate your look. Experiment with jewellery, handbags, and footwear to add a personal touch and enhance your overall ensemble.

Craftsmanship appreciation: Learn about the cultural significance, the karegars (craftsmen), the history and the art behind different styles, handiwork and garments. Understanding the history and traditions can deepen your connection to the clothing and enhance your overall experience.
What's next for Pyaari Pieces?
I'm thrilled to share that Pyaari Pieces is embarking on an exciting new chapter. After months of dedicated work, our Sydney studio will open its doors this Summer. We've curated an immersive experience, offering styling sessions, try-on opportunities, and draping services to transport our clients to the charm of boutiques in India or Pakistan.

But that's not all – we're gearing up to expand into jewellery and accessories rental, bringing even more convenience and variety to our clientele. Our vision is to build a diverse inventory so that every person who engages with Pyaari finds something truly special and feels beautiful doing so.