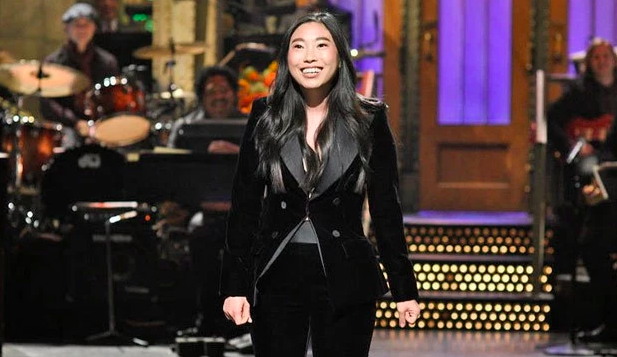 Crazy Rich Asians has done lots of things in the past two months, including smashing box office records, bringing diversity in Hollywood to the forefront of industry discussion and introducing us to the beautiful soul that is Henry Golding.
It's also led to its hilariously talented star Awkafina landing a guest host spot on Saturday Night live, which is a massive deal because she's only the second Asian women to score this top gig in the US TV comedy scene.
The first was actress Lucy Liu, who hosted SNL almost two decades ago. Two decades!
When Awkafina spoke down the barrel of the camera earlier this month on the set of Saturday Night Love, she paid tribute to her 'idol' and recounted standing in a line as a 11-year-old, waiting to catch a glimpse of Liu back in 2000.
"I was a kid, and I didn't have a ticket, so I knew that I wasn't getting in," she recalled.
"I just wanted to be near the building. I remember how important that episode was for me, and how it totally it changed what I thought was possible for an Asian-American woman."
Over the weekend Liu responded to the Crazy Rich Asians star's lovely message, writing on Instagram, "Thank you gorgeous @Awkwafinafor the epic @nbcsnl shoutout and performance. Shine on Fellow Warrior!"
Let's hope it doesn't take another 18 years for the next Awkafina or Lucy Liu to front SNL.