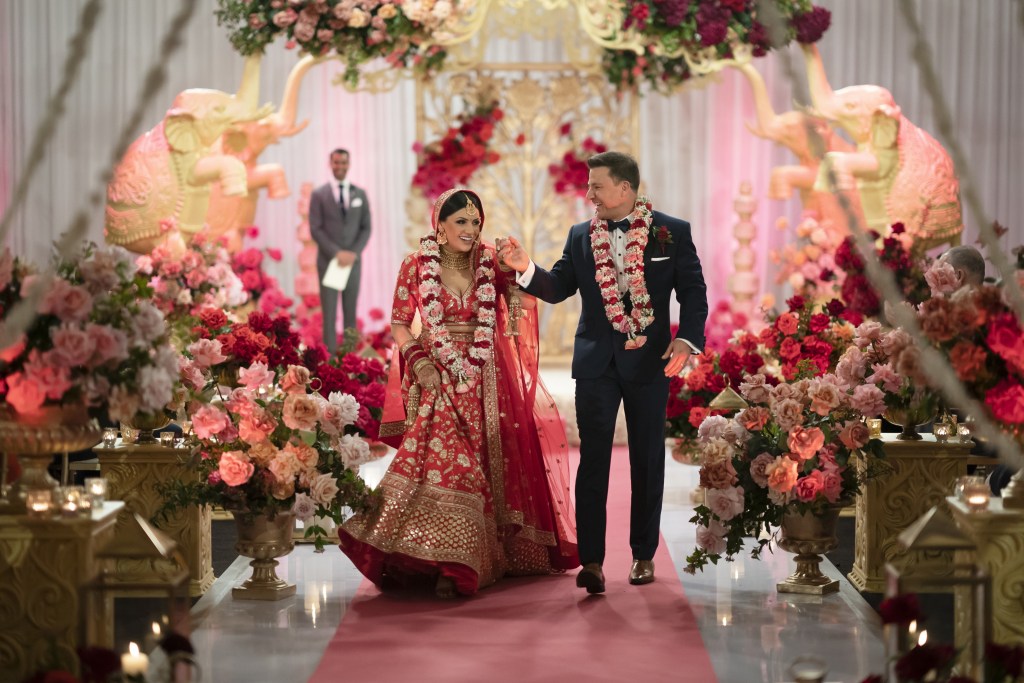 While South Asian people are not widely represented on reality dating shows, tonight's episode of 'Married At First Sight' has strived to challenge this. Sandy Jawanda, a 36-year-old daughter of Punjabi Indians, tied the knot with Daniel Hunjas in what was a very Indian-inspired wedding ceremony.
The dental hygienist chose to wear a traditional red lehenga from Melbourne-based Indian fashion boutique, Masaya Angels, along with glistening gold jewellery, henna designs sprawled across her hands and beautiful flower garlands to seal the deal.
"Just like exchanging of rings represents commitment and eternity, Sandy has asked that we include the Indian tradition wear garlands are exchanged as a symbol of love and respect," the celebrant said during the televised ceremony.
Sandy and Dan's stunning garlands were created by Ganasri Mistry who runs Sydney-based business, Sai Garlands. What initially began as her mum making garlands with her friends for a local temple 15 years ago, has now become a joint venture between Ganasri and her mother – and one of the most in-demand garland providers in the Indian wedding biz in Australia.
"She [my mum] made garlands for many years from when I was in primary school and I never really paid much attention to it," Ganasri told Draw Your Box. "However, it was during my own wedding [in 2018] when I became really interested in the florals, and after that I decided to join her in the business."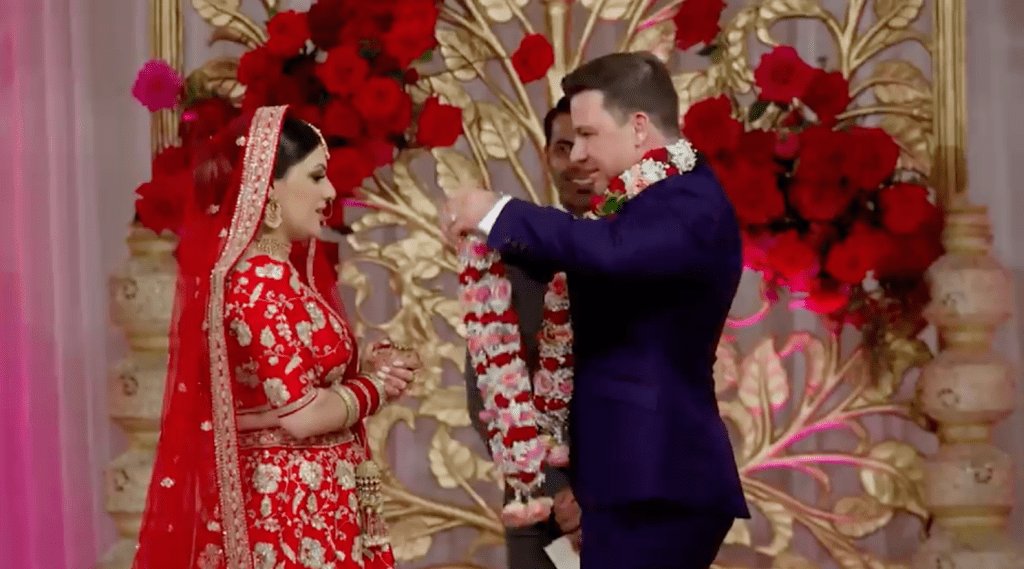 When the 'MAFS' production team reached out to Ganasri requesting a pair of garlands for Sandy's wedding, she was "delighted" to create something that would perfectly complement the bride's red outfit, and help mark the special occasion.
"My favourite part of the garlands is the creativity that I get to immerse myself in when creating custom garland pieces for each bride and groom," she said. "Each bride has a different vision, different outfit or decor and a different look they want to achieve. The garlands are a central part of the wedding procession so we do our best to create a piece that fits their vision.
"The flowers we used for the 'MAFS' garlands are babies breath (gypsophila) and spray roses in pink and red," said Ganasri. "These two garlands take about two-and-a-half hours each to make, which is five hours in total. This doesn't include the time taken to go to the markets and shop the flowers."
While it may have only taken up a few minutes on screen, the exchange of garlands in the MAFS ceremony holds a special significance.
"Garlands are used at so many different milestones within the South East Asian culture, from birth to death," explains Ganasri. "In a marriage, the garland shows the acceptance of the bride from the groom and vice versa. The exchange of garlands in a marital ceremony is a significant moment in the wedding.
"They are also used as a way to greet people to show acceptance and respect. They are used on the deities in temples as offerings, at funerals to honour the people who have passed, and at baby showers to celebrate new life."
With wedding season in full bloom, Sai Garlands has continued to face high demand for its services, and Ganasri recommends customers book in at least a month before the wedding.
"My advice for couples is to consider which flowers will last the longest, especially if you are having an outdoor wedding or a Summer wedding," she said. "I think it is always great to do a bit of research into the different styles of garlands there is and inform us of the colour palette that you are going for in terms of outfits and decor."
On that note, if you're after some inspo (whether you're planning a wedding or not), head over to the Sai Garlands Instagram page here.