He may have over 140,000 Instagram followers and worked with some of the biggest names in Tamil music, but Inno Genga remains humble after over a decade in the limelight.
The London-based singer, famed for his viral social media covers of Tamil hits, was the highly-anticipated vocal guest at Eastern Empire's 'Evolution' shows in Sydney last month. Yet, he still harboured internal doubts of whether Australian fans would turn up to see him there – or at his scheduled Sydney and Melbourne nightclub appearances hosted by Ash Kumar and BrownBeatzz Entertainment.
"I'd heard from a few Australian fans. There are always comments on the Instagram reels and YouTube videos," Genga told Draw Your Box. "But I never expected this many people to show up to both shows and the club shows as well.
"It was quite nerve-racking at first. I thought, 'How many people are really in Australia that want to come and see?' I was pleasantly surprised by the amount of people that showed up."
In what's a competitive social media landscape where virtually anyone can upload a TikTok or YouTube video in the hopes of overnight stardom, the 29-year-old's talent has cut through the noise. After first sharing YouTube covers of popular songs when he was merely 16 years old, he has gone on to be discovered by Indian musical composer Anirudh Ravichander, and sung as a playback singer in Tamil cinema.
Growing up in London as the son of Sri Lankan Tamil immigrants, Genga's appreciation for Tamil music was surprisingly gradual.
"My dad migrated [from Sri Lanka] in the early 1970s," he explains. "It was tough getting into Tamil music, because I never really spoke Tamil growing up because my parents came [to England] pretty early on. So they actually spoke to me in English at home."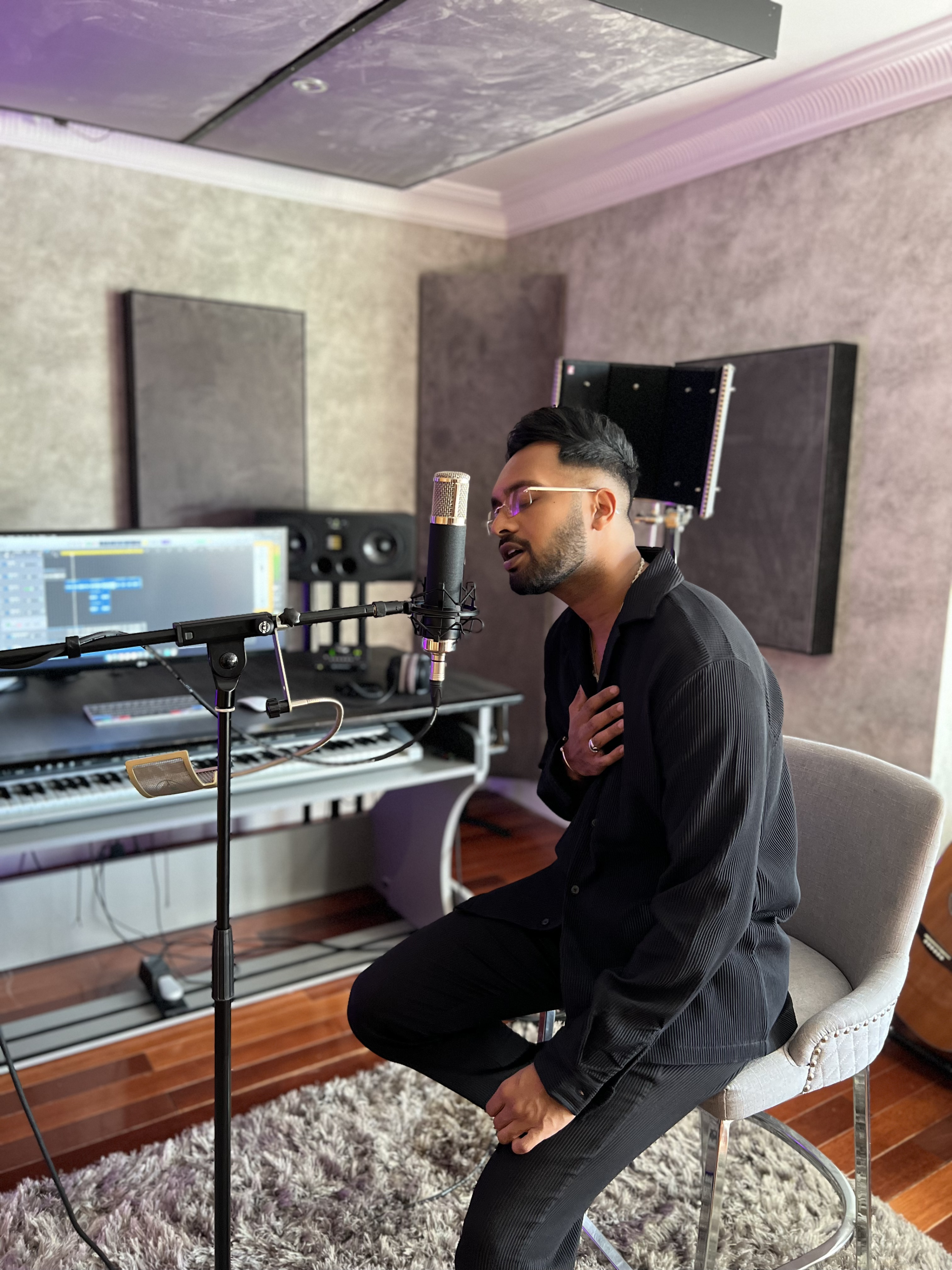 It was eventually through watching Tamil films, listening to Tamil songs and picking up the language from Tamil-speaking family friends, that Genga developed the interest and confidence to sing in his family's mother tongue.
Like many South Asian parents, his mum and dad asked him to focus on his Mathematics with Finance university degree at first. It wasn't until he began getting recognised by fans and musical heavyweights like Anirudh, that his parents said, "Oh actually, maybe we should take this a little bit more seriously. Maybe there's something actually here for Inno to do."
In 2013, Genga's passion for creating Tamil and English fusion covers was born when he heard Anirudh's track, Oh Penne.
"I was like, 'Oh actually, this is like an R&B kind of Tamil song. Maybe I should do a cover of this because it's more my style'," he reflects. "But I didn't want to do just normal covers so I thought, 'Let me mix it with an English song'. I didn't really see anyone else doing it at the time. Then luckily, Anirudh saw the cover and reposted it. Then I started doing more of his songs."
In 2016, he was asked to be the pre-show opening act on Anirudh's Malaysia tour, before later relocating to Chennai to complete an internship under Anirudh.
"I went to India and I ended up living with his [Anirudh] manager and another friend in Chennai, and I was basically working at the studio every day. I was learning from him and managed to get more playback songs, and I actually got one of my first songs as a music director [in a film]."
The song he's referring to is popular hit, Unnaal Penne in the 2020 Tamil film, Dharala Prabhu, and having his name appear in the movie's credits is definitely a career highlight.
"I never thought I would actually see my name at the end of a movie," he says, in a tone that carries the same amount of disbelief and humility as someone just starting out in the industry.
While recording for the screen is indisputably his comfort zone, Genga's strong fanbase has led to him meeting the recent demand for interactive live performances. Singing with Eastern Empire, a band of Sydney-based South Asian artists, was new territory for the UK star.
"This was the first time I've actually performed with a live band," says Genga. "It's an amazing experience to work with Eastern Empire and all of those talented guys. It was so easy and seamless to work with them. We only had one rehearsal together but we meshed really well."
His first trip to Australia was topped off with a personal highlight – getting engaged to long-time partner Archana. Genga says he's still navigating the uniqueness of social media fame, where followers are understandably just as invested in who he is beyond the microphone.
"It's definitely been a battle throughout the years figuring out how much I want to show of my life on Instagram and all social media platforms," he says.
"I'm slowly getting out of my shell more and showing more to the fans, but it's definitely a struggle – what do I want to show and what don't I want to show?"
Where listeners will definitely get an insight into more of his personal life is through his first release of original music coming out soon.
"I've actually got a deal with Sony Music – a three-song original deal. So I'll be releasing the original music very, very soon," he teases.
"It's definitely personal," he says of the inspiration behind the new releases. "A lot of personal life and a lot of lovey dovey stuff," he laughs.
"I produce the music myself, so I've made all the beats. I can't write in Tamil, so I've also got a bunch of lyricists who I work with."
Ultimately, Genga's dream is to be the sole music director on a Tamil film, responsible for "the background scores and all of the songs". As he continues to inch closer to this goal with his growing success, he wants to encourage emerging South Asian artists to pursue their musical ambitions.
"I feel like cliches are the secrets of life, so just keep working at it. Just don't ever give up and don't listen to what people say," he says is his core advice. "Getting yourself out there is the right way. There are so many different avenues that will lead to a career, but you just have to get yourself out there [first]."