One of the most charming aspects of art is its ability to transcend boundaries and languages, yet still be extremely personal to whoever interacts with it. From painting to weaving and drawing, various forms of art have been used within South Asian cultures to entertain, inform and inspire.
It's exactly what Gauri Torgalkar sets out to do in her new series of art for Saatchi Art's The Other Art Fair that's on in Sydney this week. Titled Tracing Patterns & Chasing Silhouettes, the work re-imagines the Australian landscape through the lens of Indian textiles.
We caught up with Torgalkar to learn more about her creative process and how her identity as a brown woman plays a role in the work she produces.
Congratulations on featuring at The Other Art Fair. Tell us a bit about your series of pieces featuring at the multi-day event.

Thank you! This is my first time at the fair and I am very excited! My work mostly includes paintings and drawings, and it re-imagines the Australian landscape as altered through the lens of personal memory and inspired by narratives including Indian textiles, folklore and miniature painting.

My inspiration starts with my mother's sarees. Growing up in India, I was always fascinated by my mum's sarees. Indian handloom fabrics have beautiful weaves and are lusciously tactile, and my mum has the most exquisite taste in sarees. In many ways, the artworks are my way of recreating my mother's sarees and the memories associated with them.

I discovered raw linen surfaces to paint on over a year ago, and I don't think I can ever go back. This surface reminds of me Indian handlooms and it helps me best achieve the results I want.

Most of my artworks involved a long process of building up thin layers in acrylic alternating between horizontal strokes and vertical strokes. I predominantly use transparent colours so the new layers can interact with the layers below to build up colour. This helps create a fabric-like effect. There is a lot of scraping, brushing, and removing paint as well. Sometimes I also incorporate ikkat or other South Asian motifs, gold foil or translucent gold lines. These are a homage to the saree and blouse details I have grown up seeing.


How long does the artwork take to create?

Building the layers can take a long time to dry and seal before I add more layers. Using thin layers in acrylic can be very tricky to manoeuvre as they can lift off easily. Plus, once the background is done, I keep changing my mind about how to proceed with the details or drawing over it. All in all, it typically takes anywhere from two weeks to two months to finish a painting. Sometimes, I will mock up options in Photoshop, but that doesn't always help speed the process.


What is your usual creative process and where do you seek inspiration?

While traditional Indian aesthetics guide my art, the subject is essentially Australian. I am fascinated by the Australian landscape, and it will forever be a goldmine of ideas for me to play with. My exhibition in 2017 was inspired by the pagoda rock formations in the Blue Mountains, which to me, resemble the temples in South India. My most recent exhibition, Diwali Bloom, was based on the natives from Cumberland Plain Woodland, and they were used to create large-scale Diwali lanterns depicting the native flowers.

The work I am exhibiting at The Other Art Fair is a series called Tracing Patterns & Chasing Silhouettes, that explores the intersection of landscape and life along Sydney's urban waterways.

While the source of inspiration may vary, the process is almost always the same. It all starts with a lot of drawing: on-site and in the studio. This is typically followed by thumbnail sketches which form the basis of larger paintings.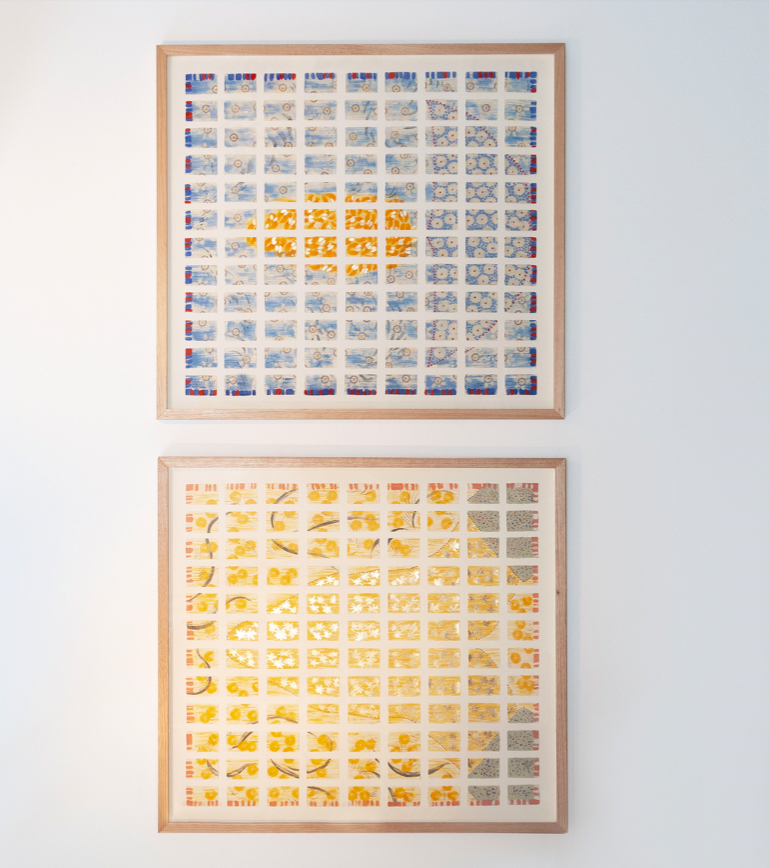 How long have you been an artist and what's your favourite part of your job?

I guess I have always been an artist – drawing and colouring in my spare time as a child since I can remember. However, my education was in architecture and urban design and it's taken me a long-winded route to get to this place of being a professional artist.

Being an artist is to see and depict the landscape in a new way. And since my work is abstract, I am not bound by what is real, in terms of colour or form. It is an intuitive process, but one needs to listen to the artwork and see where it wants to go. And if I am open enough, the end results can often surprise me – that is my favourite part of my work.


What would you say are your career highlights?

One of my recent career highlights has been my project in collaboration with Cumberland Council 'Diwali Bloom', which won the Create NSW Small Projects Grant in 2021. We created a community rangoli event as a part of the exhibition which was attended by South Asian residents living in the Cumberland area.

My artworks have been shown in several exhibitions in Sydney including the Greenway Art Prize (which I won in 2015), Adelaide Perry Prize, Blacktown Art Prize, and overseas at the Museum of Contemporary Art in Cleveland, USA (team project). My work is held in public and private collections in Australia, India and the United States, including commissioned artworks for health institutions in Western Sydney.
Could you please share a bit about your cultural heritage and connection to Australia?
I am from a Maharashtrian background, born and raised in Mumbai, India. I lived in the US for 10 years before I moved to Australia in 2012, when I got married. All throughout my time in the US, I was a weekend artist, so when I moved here, my husband encouraged me to take some time off work and pursue art professionally.


How much of a role does your identity as a brown woman, and connection to your Indian culture, play in the artwork you create?

All throughout my education and 20 years in architecture and urban design, drawing has always been a part of my work. In drawings depicting the urban environment, I was able to develop a distinctive style, but there was never any room for indication of my culture in it. Ten years ago, when I started pursuing a career as a professional artist, incorporation of my culture, my background and my story into the art practice was of vital importance; an attempt to fill that India-shaped hole in my he(art), one artwork at a time. So yes, the brown woman identity is central to my artwork; loud and proud, gold and all!

I am fascinated by older systems of colour, pattern and ornamentation and their overlap between cultures, giving us a language that can be simultaneously local and universal. Through my work I hope to bring my Indian aesthetic into the conversation around contemporary art in Australia, contributing towards its diverse and complex cultural narratives.
What is your advice for others who would like to pursue an art career?

Follow your heart and focus on your most authentic voice. This is perhaps the most clichéd advice, but it is also very difficult to follow. It is important as an artist that we are vulnerable and honest to ourselves and to others. And while we do what we can to pay the bills, keep the art practice as true as you can.
Gauri Torgalkar is just one of many artists appearing at The Other Art Fair, Sydney that's taking place from October 12-15 at The Cutaway Barangaroo. Click here for tickets and program information.